Q: How to create a free account for online flipbook publishing?
3DPageFlip offers Upload Online Service for users who don't have own website. People can easily publish their flipbook online with simply clicking the button "Upload Online" in the online flip book maker (3D PageFlip Professional V1.6.2+, 3D PageFlip Standard V2.5.1+, 3D PageFlip for PowerPoint V2.0.0). However, you need to create a free account first. This account is a channel for users to access to our online server. By login the account, users can upload flip books, manage flip books or share published online flipbooks. Let see how to create an account:
Step1: Click "Upload Online".

Step2: Fill in the "Email" box and "Password" box with your own email and password. Then click "Create". Then you will own your 3DPageFlip account to publish flipbook online.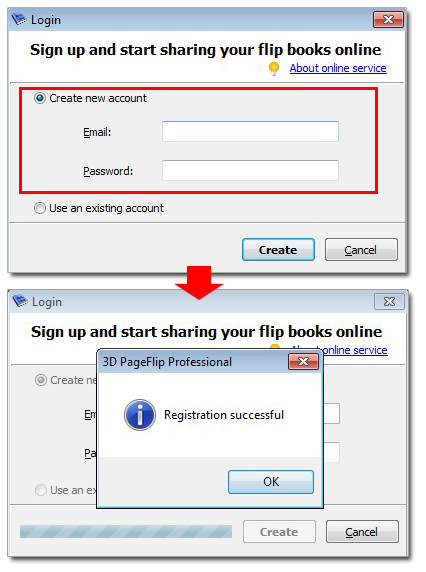 FAQs about Upload FlipBooks Online:
What is the 3DPageFlip Upload Online Service?
How to pay for Upload Service?
More ways to upload 3D flip book online with ease.
How to make 3D flipping book available on Android mobile device or other tablets like iPad?
How to upload flipbook directly to 3DPageFlip online server for mobile reading?
HOT TOPICS

Popular Download

You May Like