Examples
Our products can be used to build cool 3D Virtual Magazines from PDFs and office documents. You can easily handle the software to create customized online or offline eBook with 3D effect and 360 degree vision for any use. For example, you can display it to shopping stores as a products brochure or you can promote digital Book as a publisher or an eBook author. Click demos to view excellent online 3D books!
Examples Created by
3DPageFlip Professional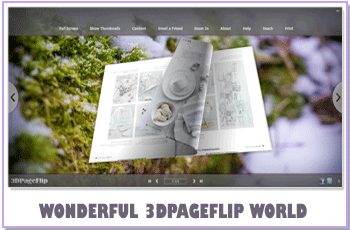 (PC & Mac) -
Embed 3D video, 3D Image Sphere, 3D Object, links, flash, button, etc.
---
Examples Created by 3DPageFlip Standard (PC & Mac)