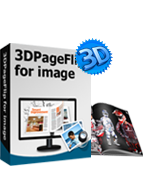 $99

3D PageFlip for Image
Convert Photos to Realistic 3D Multimedia Photo Flip Books
An excellent way to work with images in blogs and share your photoes.
Easy create pretty photo flip book (3D page-turnning effect) with your digital photos.
Smart User Interface and navigation bar with zooming, printing, contents editing, and full screen functions.
Wonderful way to show your striking presentation, a memorable photo flip book or impeccable portfolio.
Convenient Publishing and Sharing: Generate the photo 3D eBook as HTML/EXE/CD/iPad, iPhone & other mobile version.
Free Trial
Buy Now
Why Use?
Features
Screenshot
How It Works
3D PageFlip for Image is software to convert images to beautiful Flash Photo Gallery with realistic 3D book flipping effects. Unlimited images convert in minutes! You don't need the Flash software for editing the gallery. You can easily add, edit or delete pictures by 3D PageFlip for Image. Creating your own Flash Picture Flip Book with 3D vision has been very easy! Start to use the wonderufl flip book images program to build your striking presentation, picture flip book, a memorable photo album or impeccable portfolio now!
The pages turn with the option of rolling the entire book in three dimensions, and this induces a feeling in users as if they are holding an actual book in their hands. Use realistic 3D page flip magazines effect to promote your book, boost your book's sales or to demonstrate your book in realistic, visual 3D animation!
Combine Photos to Amazing Flash Gallery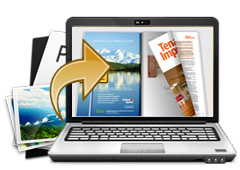 3D PageFlip for Image is your easy way to convert a set of images to 3D photo flip book, with realistic paper gallery and 3D page-turning effect. There are a lot of page typesetting functions and image beautify options for you to perfect your photo flip book. Sharing photos or product pictures in a different way could be no difficulty for you. Just import your pictures, beautify images, set template, and then the program will output to digital gallery in minutes
Realistic 3D Photo Flip Book with Page Turning Effect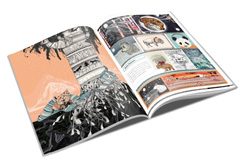 Read books on digital devices with real page turning effect, book spine, different thickness for pages, drag page corner to flip, adjust reading tilt of the books. Give your customers a great reading experience by viewing your smart 3D photo flip book !
iPhone, iPad & Android Devices Supported

Besides PC and Mac, make the 3D publications more flexible and run on more devices like iPhone, iPad, and Android devices. Enjoy the book reading experience also in the mobile world, only a browser is required in a mobile device to get the online picture flip books work. It can be a very convenient way to tune everybody on your new publications.
Powerful SEO Integrated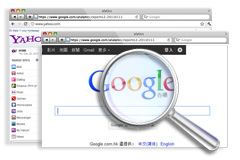 3D PageFlip Standard helps to build real page-flipping effect books with SEO (Search Engine Optimization) integrated for Google, Bing, Yahoo and other search engines. The SEO integrated program creates search engine friendly content with the book automatically, after publishing 3D books online, everyone could find out the books with ease through the internet.
Support Google Analytics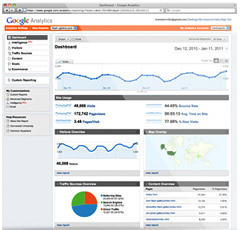 The code of Google Analytics can be embedded to each 3D eBook with using 3D PageFlip Standard, and all statistics will be available from your Google Analytics account live. The convenient analytics way will help you to analyze and monitor the traffic of your published books, and then you can measure your ads ROI and other status to build more powerful campaigns.
Social Share and Easy Get Sharing Data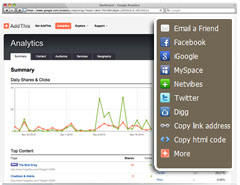 3DPageFlip program uses AddThis sharing platform which supports hundreds of sharing channels. Just build your own user account and get account ID. Then after you publishing your create 3D eBook online, you can know how many people shared your eBook in your account record. More details please view info in the FAQ page as reference.
Free FlippingBook Templates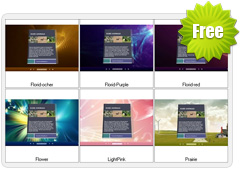 3D PageFlip software provides pre-designed templates and themes online for you to use. You can make changes to any template or theme based on your photo flip book style or your design requirements. Change settings such as the 3D eBook tool bar color, color of images or backgrounds.
Full Customization Settings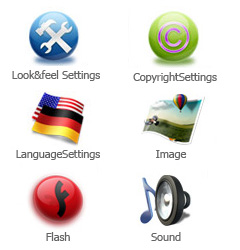 With using 3D PageFlip for Images, you can customize photo flip book title, logo, background, flip sounds and much more – almost everything can be customized easily:
Language Settings: Define your language for 3D magazines.
Copyright Settings: Define book info, like author, website, email, instruction, and even HTML keywords, description and other metadata.
Toolbar Button Settings: You can control toolbar buttons as you want, show or hide the buttons to enable or disable related features, like Zoomin, AutoPlay, Thumbnail, Background Sound, etc.
Product Features
Add unlimited number of images.
Import Images from computer or digital cameras directly.
Import almost all formats of Images: JPEG/JPG/JPE, BMP/Bitmap, PNG, TIF/TIFF, PSD, PCX, JPEG2k/JP2/J2K, RAW, DCM/DIC/DICOM and more.
Arrange image order, page layout.
Full control to change image size, rotate, crop, auto color adjust.
Add decorations, frams, cliparts on pages.
Define quality and size for imported PDF pages.
Apply a pre-designed template.
Export and save settings or projects for future use.
Define book Title.
Enable Auto Flip with setting Flip Interval.
Set Flash buttons display language.
Different kinds of render engine to choose, to avoid distortion for some special PDF files.
Set page thickness and make book auto scale in different Flash containers.
Input Presenter information such as name, website address, Email and details info to show in About Window.
Choose color for Tool Bar.
Define logo to show on Tool Bar.
Pre-set tilt angle while opening the eBook.
Set background with pure/gradient color or image directly.
SEO and Google Analytics Integrated.
Enable readers to sharing via Facebook, Twitter, iGoogle, etc, Sharing Analytics supported.
Output to different formats: HTML, ZIP, EXE, Mobile Version and Burn to CD.

HTML allows you to upload to a website to be viewed online (with title, keywords and other metadata defined).
EXE (with setting title, icon and open window size) and Zip allow you to send to your user by email to be viewed on their computer.
Mobile version is to output HTML flipbook which can be viewed on mobile devices via Browsers (support slide single pages on mobiles).
Burn to CD allows you to burn to disk so that you can send your user physical media for viewing on their computer.
Output 3D flash Photo Album Features
With the 3D flash flipping photo album you have created, your user will be able to:
Realistic 3D page-flipping effect to read ebooks.
Click navigational buttons to turn pages.
Double-click or click zoom in/out button to zoom in or zoom out pages in multi-level.
Manually define Tilt Angle or wheel mouse to change angle to view eBook pages.
View pages thumbnails to go to interested page quickly.
Flip pages automatically.
Turn page-turning sound on/off.
View eBook detail information.
Share eBook URL via Facebook, Twitter, Digg, etc.
Add bookmark on pages as notes for later reading.
Print out the whole eBook or a selected range of pages.
View page-flipping eBook in full screen.
Open in the Browser to a specific page by adding a page index to your URL. E.G.www.yourdomain.com/index.html?p=4.
Screenshots of 3DPageFlip for Image below: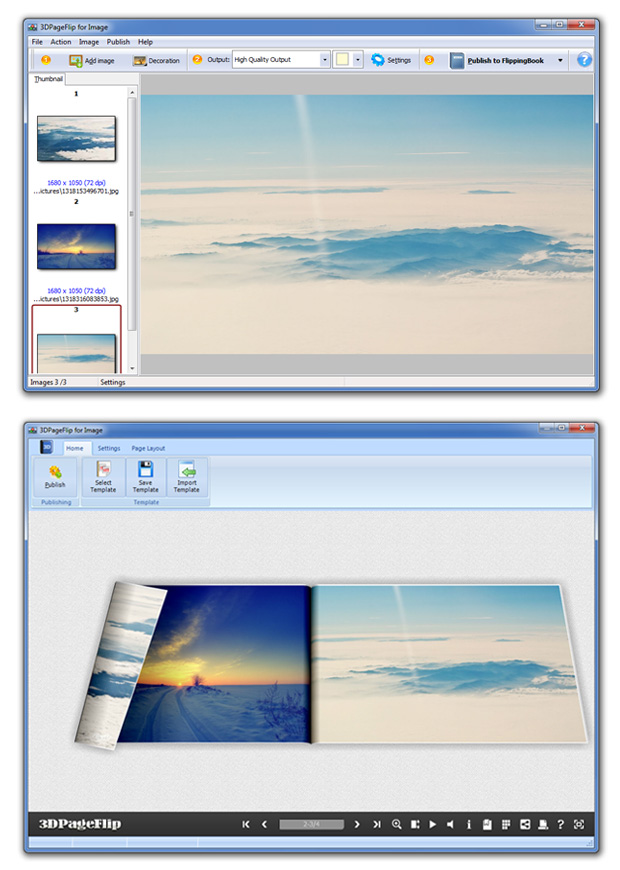 Three steps to create flash flip eBooks from Photo (3D PageFlip for Image)