Q:Three background designing ways for true 3D eBook?
(Note before FAQ: Due to our efforts, 3DPageFlip software are updating. New functions are adding and bugs are fixing. When you are trying to use FAQ to help your 3D eBook designing, make sure you have installed the newest version to get the new function in the software. 3D PageFlip Standard Support Version 2.5.2+, 3D PageFlip Professional Support Version 1.5.2+)
3D eBook creator – 3D PageFlip Professional has been updated with more user-friendly interface. It will be more convenient for page flip book users to design 3D eBook layout. Absolutely, background is the most important part in 3D page turning eBook designing. Here will introduce three ways to set different background styles in 3D PageFlip Professional.
Option1: Set image for background. In this option, you can import image from your computer to decorate background. It can be the most personalized option for you!

Option2: Set pure color for background. You can fill in the background with the pure color to make it simple and concise.

Option3: Set gradient color for background. You can adjust the angle of two gradient color to make it suitable for your 3D page flip book.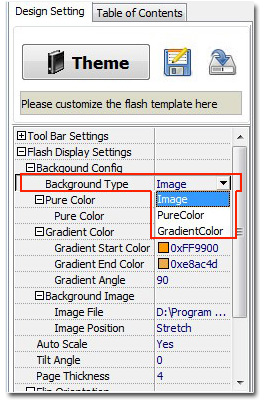 This is similar in 3D PageFlip Standard: How to customize different backgrounds for 3D books in Float Template?
HOT TOPICS

Popular Download

You May Like