Q:How to make same width for the added objects in the 3D eBook?
"Make same width" and "Make same height" in Page Editor of 3D PageFlip Professional is something to help you quick design your objects. For example, you need to add several links in 3D book page when you create a catalog in one page of PDF. You click "Add link" to draw a link and then another. However, it's hard to make it the same size to fit your items. Maybe you copy and paste will be a good choice, but this method is limited because when you want to change its size, it would not be convenient. Now, let's learn a way to quickly make the same size for your objects, including width and height.
Step1: Enter Page Editor after you import PDF with a catalog page. Like the 3D demo eBook show you. In this step, you will add links for all items to link each item to its targeted page in page turning book.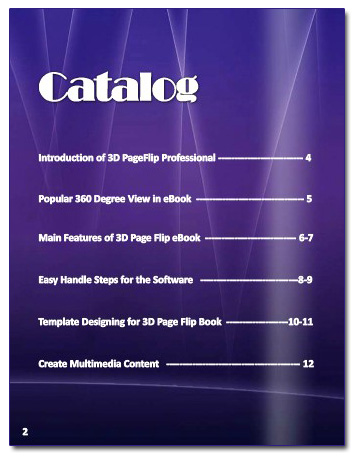 Step2: Select all the objects. Of course you should make one object as the standard one and select it first. For example, you can take the first link as the standard one and others links will make the same width and height as this one. After you select all, the "Align" floating bar will occur.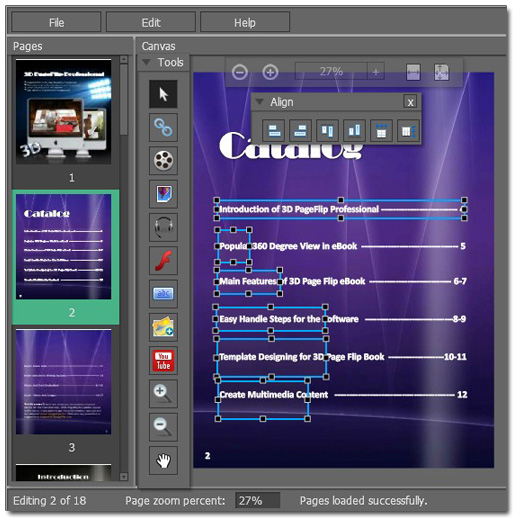 Step3: Click the option "Make same width" in "Align" and then "Make same height".


Step4: As you can see, the links are now with the same size in the flip page, but not in right position. You can move it to cover your text item and then use "Align left edges" in "Align" to quick align them.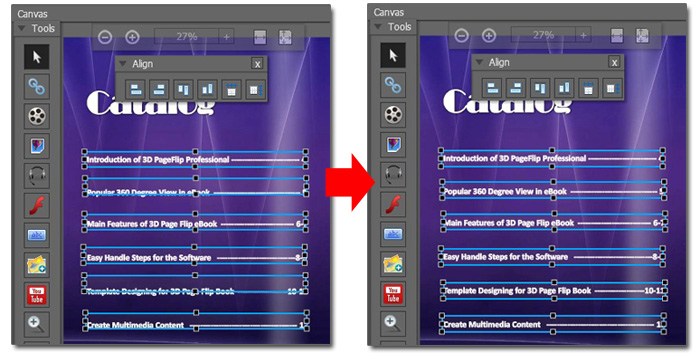 Step5: Set link properties. Now, a catalog for 3D page flip book has been finished.
More Align settings: How to align the objects you inserted in the 3D eBook?
HOT TOPICS

Popular Download

You May Like