Q:How to align the objects you inserted in the 3D eBook?
(Note before FAQ: Due to our efforts, 3DPageFlip software are updating. New functions are adding and bugs are fixing. When you are trying to use FAQ to help your 3D eBook designing, make sure you have installed the newest version to get the new functions. 3D PageFlip Professional Support Version 1.5.4+)
Now page editor of 3D PageFlip Professional would be more power than ever before. Now it supports to align your inserted objects. You will find it more convenient while you add several links or buttons in one page and tend to make it tidy for vision. The function includes the four orientation align. Now let's use the new function for efficient 3D page turning eBook design. You will have no need to waste time to adjust the objects one by one anymore.
Step1: Get into Page Editor of 3D PageFlip Professional. Let's take links as an example. Of course you can add movie, buttons or other objects. The way for align adjustment is the same. Click "Add links" to draw several links in the page. Select all the links. Make sure you first select the main object which can be aligned by other links.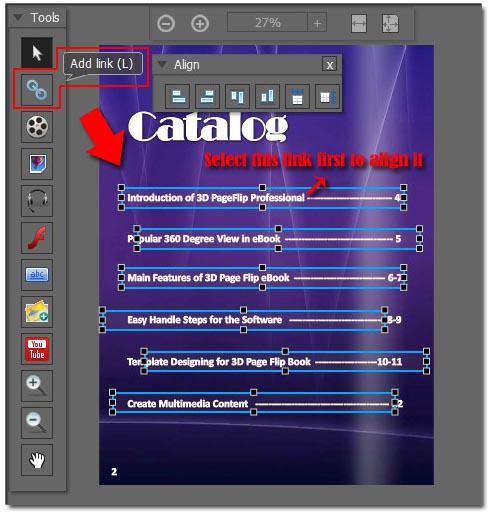 Step2: Click "Align > Align left edges" and all the links will be aligned. Other options for align in 3D page flip book: Align right edges, Align top edges, Align bottom edges.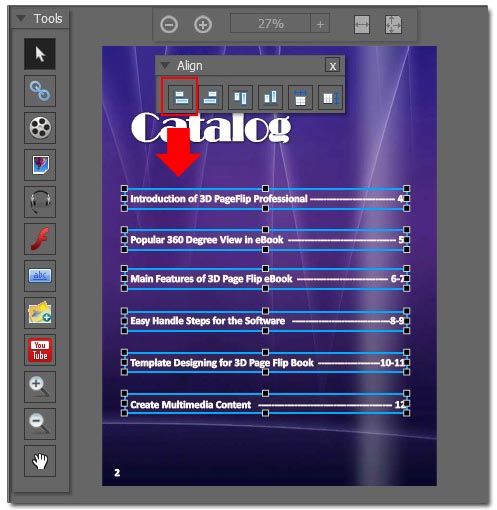 More Align settings: How to make same width for the added objects in the 3D eBook?
HOT TOPICS

Popular Download

You May Like