Q:How to brand flipbook with company logo and company information?
To present your company or personal business, it is important to make a page flip book with branding features, such as logo and company information. 3D PageFlip Software will help to brand your digital magazines with easy settings.
Set Logo
1. Run 3D PageFlip Standard/Professional, choose a template, like Handy.
2. Click "Logo Setting > Logo File" in the design setting panel and choose a logo from your computer. It must be jpg, bmp, png, gif format. It is better import an image with 32pix high.
3. Type a URL link in "Link" to display a link for your logo. It can be your home page or business website.
4. Choose "Show" in the last option "Show Logo" to make it available. Then click "Apply Change".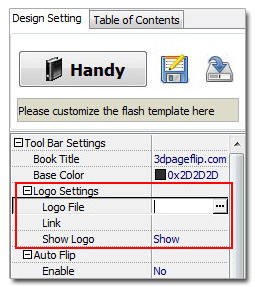 Set Company Information
1. Click "Option > Flash Information"
2. Input your author name, website, email and description.
3. Click "Apply Change". You will view the effect by clicking the "About" button in the flipbook tool bar.
Related FAQ
How do you publish your eBook online with adding own information?
HOT TOPICS

Popular Download

You May Like