Q: How do you publish your eBook online with adding own information?
A: When publish eBooks online, add information about author or website is very important and efficient to keep authority and protect eBook copyright. 3DPageFlip Standard provides you detailed settings for you to add author information and website data on your created 3D eBooks.
1. Add your source PDF file, Select Template or click "Background Config > Background Image " to insert background image directly;

2. Click "Options > Flash Infomation " to set details for your eBook, such as Author, Web Site, E-mail, Info: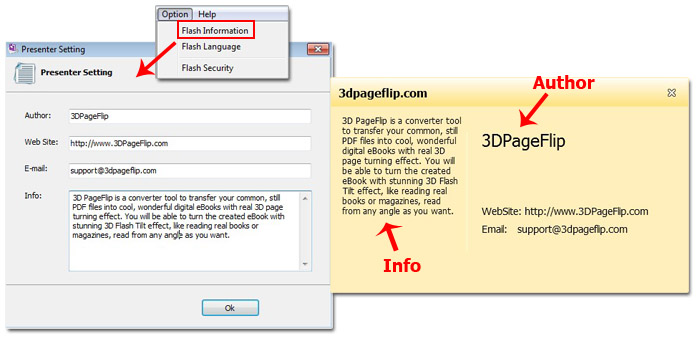 After setting, click "Apply Change", and the image on the right side is the pop-up window after clicking "About" button;

3. Publish the created eBook with selecting "*.html" Output type, then you can upload all files in output folder.

All the eBook readers online will view your defined Book Info directly by clicking the "About" button. While others sharing your eBook on Twitter, Facebook or Digg, the author and book info will be shared with more and more people as well.
So easy to protect the copyright of your digital publications, isn't it?
Related FAQ:
How to brand flipbook with company logo and company information?
HOT TOPICS

Popular Download

You May Like