Q: What should I do to add dynamic scenes for background designing?
In the 1.6.1 version and above of 3D Pageflip Professional, the dynamic scene background function is available. With this new function you can make vivid books.
Here are the steps to apply dynamic scenes to the flip page background:
1. Launch the 3D Pageflip Professional, and then click the template button and then choose "Float" style templates. Choose one to apply. Please be aware that the dynamic scenes function will available under this template only.
2. Switch to "scenes" tab, you will see the build-in scenes under this tab. Double click to apply a dynamic scene. For now, you can only use build-in scenes. Import function may be available in the future version.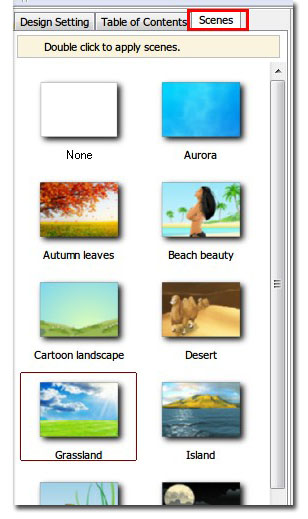 3. If none of the build-in scenes is satisfied, double click the "none" scene at the top to cancel. Also, you can change to another template except the "Float" directly to cancel scene.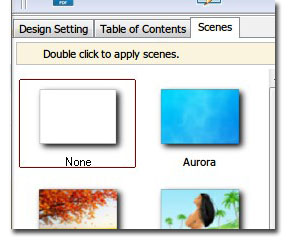 HOT TOPICS

Popular Download

You May Like