Q:What can thumbnail do in PPT to 3D page flip book?
No matter it's a real book or a digital eBook, thumbnail is something that can guide you to view the main content of a book. It's not just gallery for 3D eBook, but also a smart tip help you use and read 3D page flip book.
First Make sure you have finished convert PowerPoint to 3D flip book. You can find that the thumbnail button is in the tool bar with a pretty icon.

Click t thumbnail icon. The thumbnail interface will occur in the bottom of the flipping window. Thumbnail pictures for each flip page are displaying in the interface, you can view the whole content and know what you are going to read. You can select the flip page you are interested in and have quick click to flip to that page of the PPT page turning book..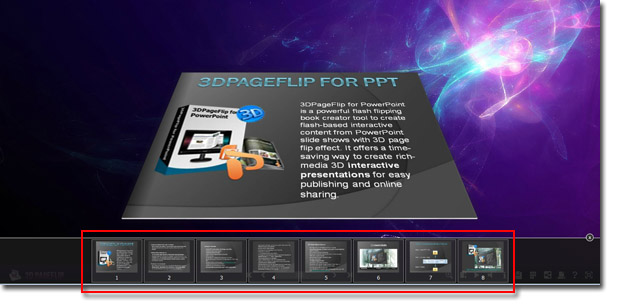 HOT TOPICS

Popular Download

You May Like