Q:Print any current page of 3D Page Flip Book?
(Note before FAQ: Due to our efforts, 3DPageFlip software are updating. New functions are adding and bugs are fixing. When you are trying to use FAQ to help your 3D eBook designing, make sure you have installed the newest version to get the new function in the software. 3D PageFlip Standard Support Version 2.5.2+, 3D PageFlip Professional Support Version 1.5.2+)
Although 3D page flip book is a publication that support on editor once it has been published, you can print any page of them. The print function is mature to enable you print any page no matter which page you are reading. As you can see, in an open book, there are two sides. You can choose freely to print any side of the current page instead of print all!
Step1: Make print button shown before you publish your 3D page flip book.
Step2: In your published 3D page turning book, click print button in the tool bar.
Step3: Choose "Print left of current page" or "print right of current page" to print any side of your current page. If you want to print other pages, you can input the page number in "Input range".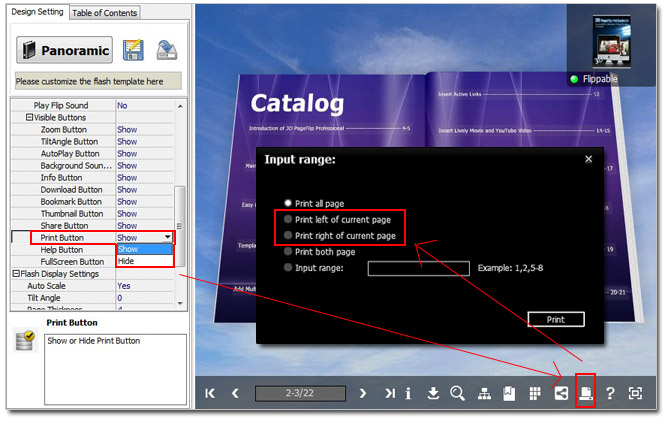 HOT TOPICS

Popular Download

You May Like