Q:How to use shortcut key to quickly design and use 3D eBook?
(Note before FAQ: Due to our efforts, 3DPageFlip software are updating. New functions are adding and bugs are fixing. When you are trying to use FAQ to help your 3D eBook designing, make sure you have installed the newest version to get the new functions. 3D PageFlip Professional Support Version 1.5.3+)
3D PageFlip software is kind software which aims to improve your page flip book designing work, including making it easy to use and handle with shortcut keys. According to our basic usage of computer, the software share same shortcut of many other applications. The inner shortcut keys are designed to provide you an easier and usually quicker method of navigating and using 3D PageFlip software. Now they would be listed below. You are able to get all the below shortcut keys to perform the related function in Windows. Doing so will dramatically increase your productivity.
Run 3D PageFlip Professional:

Alt + F

Access to Files menu

Alt + C

Convert to 3D Book

Alt + B

Batch Convert

Alt + O

Access to Option menu

Alt + H

Access to Help menu

Alt + I or Ctrl + I

Import PDF

Alt + E or Ctrl + E

Run Page Editor

Ctrl + S

Save project

Hold "Shift" key, use mouse to drag eBook spin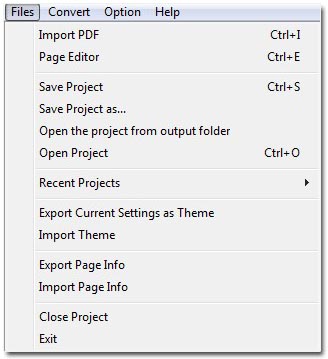 Run Page Editor:
Tools Floating Bar:
You can press the letter key directly to access the function. There are hints in each button.
| | | | |
| --- | --- | --- | --- |
| V | Select tool | B | Add button |
| L | Add link | A | Add bitmap button |
| M | Add movie | Y | YouTube |
| I | Add image | Z | Zoom in |
| S | Add sound | O | Zoom out |
| F | Add flash | H | Hand tool |
| | |
| --- | --- |
| Delete | Choose your object and press "Delete" key to delete the object directly |
| Ctrl + S | Save editing work, you can find the save information in the bottom of the Page Editor |
| Ctrl + Z | Undo |
| Ctrl + Y | Redo |
| Ctrl + X | Cut |
| Ctrl + V | Paste |
| Ctrl + C | Copy |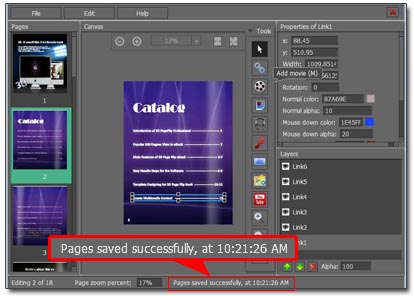 Quick way to select all objects:
Right press mouse and hold it to select all.

Quick way to zoom in and out:
1. Use shortcut key "Z" or "O" and click the page to perform the function.
2. Press and hold "Shift", at the same time roll the mouse wheel to zoom in and out.
3. Use zoom tool bar on top of the page directly, click the button to zoom in and out, or choose a zoom value from the menu.
4. Change the value in the bottom of Page Editor.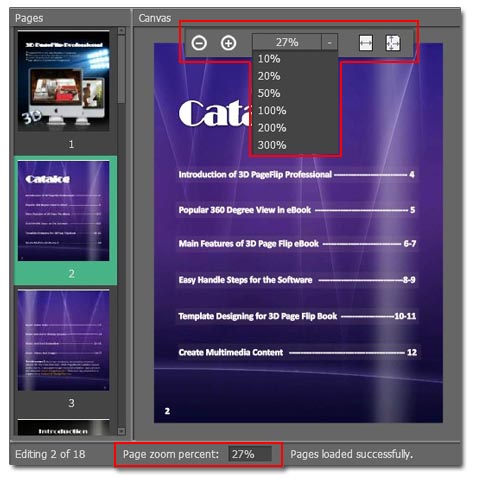 Use "Tab" key:
You can click "Tab" key to access functions from the beginning. Then use arrow key to move the selected target. For example, press "Tab", "File" would be selected and press right arrow to move to "Edit", press "Enter" and the Edit menu will be opened.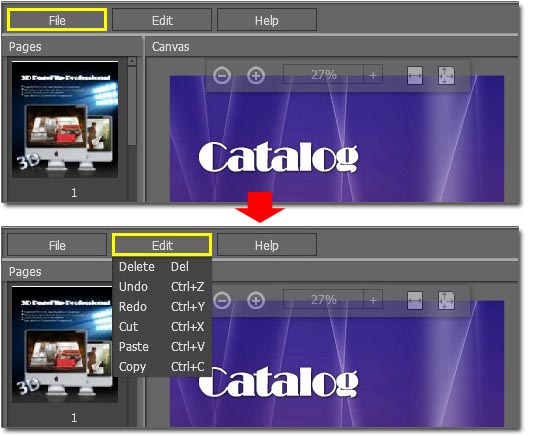 Enjoy designing and playing 3D page turning book with all these shortcut keys!
HOT TOPICS

Popular Download

You May Like