Q:How to use Page Info to save your multimedia content of 3D book?
(Note before FAQ: Due to our efforts, 3DPageFlip software are updating. New functions are adding and bugs are fixing. When you are trying to use FAQ to help your 3D eBook designing, make sure you have installed the newest version to get the new function in the software. 3D PageFlip Professional Support Version 1.5.4+)
What is Page Info? Page Info is something records your editing on PDF page. For example, when you insert a video, links, buttons, photo slideshow in the 3D page turning eBook, it will record what your insert in which page. Page Info will show its powerful advantage once you would like to modify your PDF content. If you discover something is misspelled in one page after you do a lot of editing works, you can save all these works as Page Info. Then you can modify your PDF freely, importing to 3D PageFlip Professional again. To get your previous editing, you can import the saved Page Info, all objects you inserted will cover the modified PDF as before. How convenient it is? It's a good way to improve work efficiency. You will have no need to re-edit after importing PDF. Let's follow the steps below to use the Page Info function.
Step1: After inserting lots of multimedia objects to 3D page flip book, save and exit the Page Editor. Then click "Files > Export Page Info" to save your editing.
Step2: After modifying PDF and importing it to the 3D flipbook software, click "Files > Import Page Info" to get back all editing.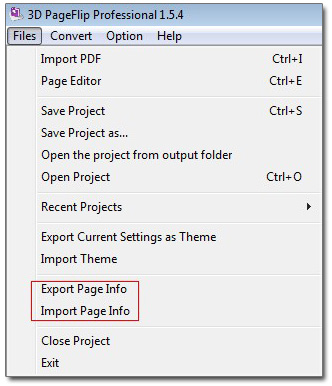 HOT TOPICS

Popular Download

You May Like