Q:How to use handy template for 3D page flip book reading?
(Note before FAQ: Due to our efforts, 3DPageFlip software are updating. New functions are adding and bugs are fixing. When you are trying to use FAQ to help your 3D eBook designing, make sure you have installed the newest version to get the new function in the software. 3D PageFlip Standard Support Version 2.5.2+, 3D PageFlip Professional Support Version 1.5.2+)
Handy template is added function in 3D PageFlip Standard and Professional. It's different from the normal Float one but with familiar application. Here will introduce how to use handy template for 3D page flip book reading.
As the thumbnail of 3D page turning book shows below, we can find the main tool bar on top of the eBook. From left to right, the functions are listed below:

Logo: click to visit website which have been pre-setted by publisher.
Sound: control background music.
Search icon: search book content.
Full screen icon: view 3d eBook in full screen.
Thumbnail button: click to view thumbnail.
Page turning button: to turn page by clicking the button.
Email button: to share flipbook via email.
Print: print any page as you like.
Zoom in: help you view detailed information of page flip book.
Content button: view table of content and guide reading.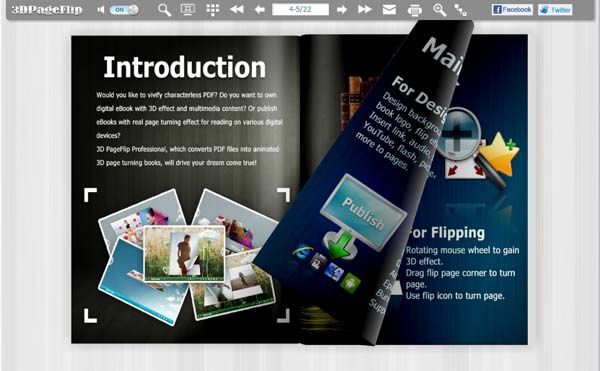 HOT TOPICS

Popular Download

You May Like