Q: How to use download feature of the output 3D flash book?
You may noticed that there is a download button in the flash bar of the flip book maker pro, here is the FAQ about how to use this feature to attach files in flip pages.
1. Enable download button
Use the search bar to search download feature. Switch the download button to "Show" and then apply change.
2. Choose download type.
There are two download types available in 3D PageFlip: file or URL. When choose "File" type, please click "…"button of the "Download File" option to choose file. Once you output the flash book with a download file chosen, you can find the chosen file in the "book directory/files/download". On the other hand, if you choose URL type, you only have to input the URL address in the "Download URL" bar and apply change. Then the download button will navigate to the address when clicked. Notice that you can't choose both types.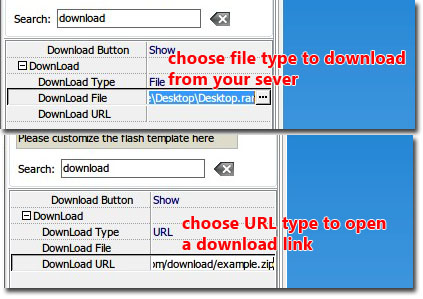 HOT TOPICS

Popular Download

You May Like