Q: How to Use Bookmark in 3D Flipbook?
A: 3D PageFlip Standard/Professional allows people to show the bookmark button on the toolbar.
Well, how to use the bookmark in the 3D Flipbook?
Users of 3D PageFlip Standard/Professional may open or close the bookmark feature to readers;
In the Design Setting panel, show the bookmark to let readers to use.
When readers are viewing the 3D flipbook, they may insert bookmarks in any pages.
1. Stop reading on the page, and click bookmark button on the toolbar;
2. Add title in the frame of the bookmark panel;
3. Close the 3D flipbook, and next time with clicking the bookmark can easily find the page you have stopped quickly.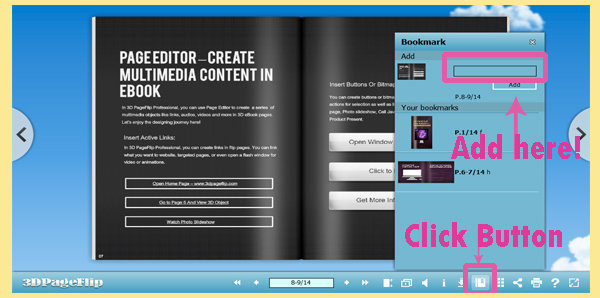 Bookmark makes readers to be more convenient when reading 3D flipbook.
HOT TOPICS

Popular Download

You May Like