Q:How to set logo and link for my PowerPoint to 3D eBook?
In 3D PageFlip for PowerPoint, you are allowed to import your company of personal logo to the flipping book after you convert PowerPoint to 3D page flip book. What's more, you can set a URL link for your logo. In this case you can link to another website when you click the logo. It's a wide way to advertise your company or whatever you want to advertise. A logo will helps you to popularize the things you want to share with others. Let's begin from here to learn how to set a logo for your PPT flipbook.
Step1: Import PowerPoint to 3D PageFlip for PowerPoint.

Step2: move to Page layout setting panel and choose a logo file from its first column (Logo Settings).

Step3: type your URL link in the "Link" and tick "Show Logo". Don't forget to click "Apply Change" to make your designing available.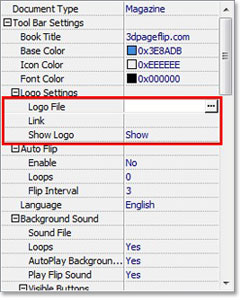 HOT TOPICS

Popular Download

You May Like