Q:How to select a 3D panoramic theme for page flip book?
(Note before FAQ: Due to our efforts, 3DPageFlip software are updating. New functions are adding and bugs are fixing. When you are trying to use FAQ to help your 3D eBook designing, make sure you have installed the newest version to get the new function in the software. 3D PageFlip Standard Support Version 2.5.2+, 3D PageFlip Professional Support Version 1.5.2+)
3D panoramic theme in 3D PageFlip Professional is something different from the panel templates. It is made from six pictures and gives us a 3D vision. When we set 3D page turning book in such theme, we will gain a special background like a space. That means our 3D eBook is displaying in a attractive 3D space. We can rotate the Book to make it flip in the space. How amazing it is when the background is switching with different scenery and the eBook is flipping as the scenery changing! Let's see how to select a 3D panoramic theme in the software.
Step1: Run 3D PageFlip Professional. Click Template button on the top of the design setting panel.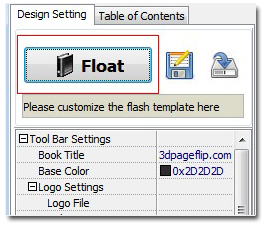 Step2: Click "Panoramic" option in "My Templates" column on the right of the Template interface.


Step3: Move to the right options and select the template you want. Click "OK" and you can view the effect in 3D page flip book.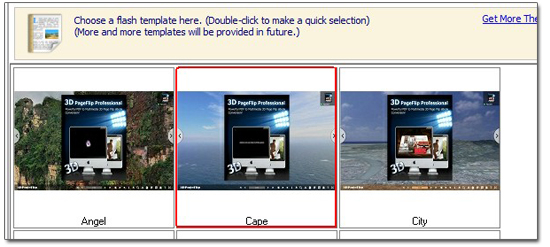 HOT TOPICS

Popular Download

You May Like