Q:How to revolve 3D eBook around 360 degree in float template?
(Note before FAQ: Due to our efforts, 3DPageFlip software are updating. New functions are adding and bugs are fixing. When you are trying to use FAQ to help your 3D eBook designing, make sure you have installed the newest version to get the new function in the software. 3D PageFlip Standard Support Version 2.5.2+, 3D PageFlip Professional Support Version 1.5.2+)
Adjust eBook angle to rotate 3D page turning book is common in Float and Handy template. However, it's not as gorgeous as revolve eBook in panoramic template around 360 degrees. You may ask, why don't we make it available to spin in 360 degrees when we use 2D templates? It's possible. You can use your mouse and keyboard to quickly do as what you like.
Step1: Get into 3D eBook Float template.
Step2: Press "Shift" button in the keyboard and use mouse to drag the page flip eBook at the same time. You can spin the book quickly in 360 degrees now.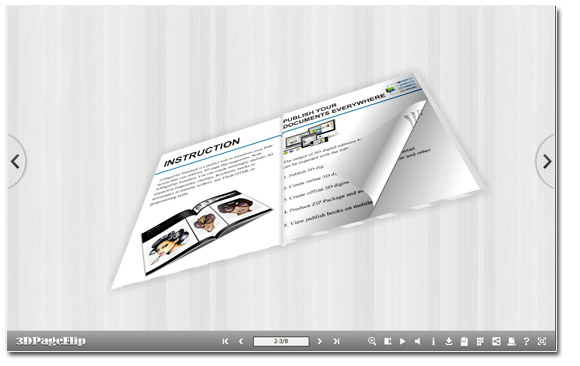 HOT TOPICS

Popular Download

You May Like