Q:How to embed video in eBook for watching in 3D space with 360 spinning vision?
(Note before FAQ: Due to our efforts, 3DPageFlip software are updating. New functions are adding and bugs are fixing. When you are trying to use FAQ to help your 3D eBook designing, make sure you have installed the newest version to get the new function in the software. 3D PageFlip Standard Support Version 2.5.2+, 3D PageFlip Professional Support Version 1.5.3+)
We are used to watch video on a screen that never imagine something has been created to break the normal vision for video! In 3D PageFlip Professional, you are allowed to inserted video in 3D eBook! More and more, you can watch this embedded video in pop-up 3D space once you play it! How this comes? A simple setting in Page Editor! Let's follow the steps to view how to create exciting 3D video in page turning book!
Step1: Install and launch 3D PageFlip Professional. Import PDF, select template and make some basic designing for the 3D eBook.
Step2: Click "Page Editor" in the navigation bar for further multimedia page editing.


Step3: Choose "Add movie" from the floating bar. Draw an object in the PDF page, as the picture shows you below.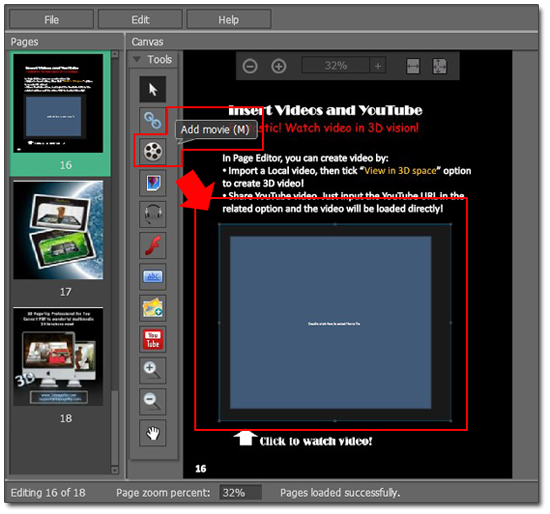 Step4: Double click to select a video or Click to select from "Properties of Video > Video Path" on the right side. Then tick option "View in 3D Space".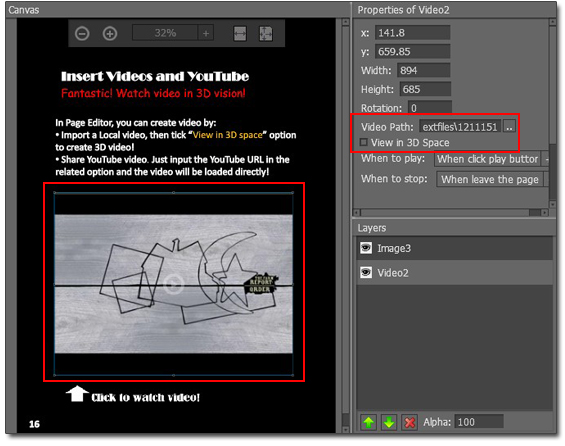 Step5: Save and exit Page Editor. You will get the effect once you click to play the video. 3D effects will pop-up and you can drag the whole video to spin in 3D scene with 360 degree! Fantastic 3D video in page flip eBook, isn't it?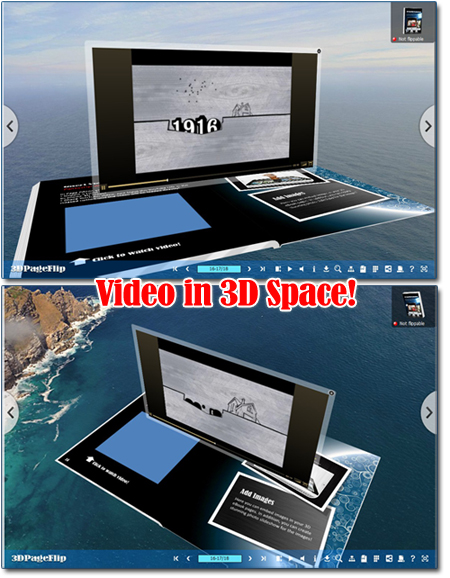 HOT TOPICS

Popular Download

You May Like