Q:How to embed music as background sound for 3D PPT book?
Do you think it a little monotony when you are reading a 3D page flip book without anything? I would suggest you to play some relaxed music when you are doing some digital reading. Here 3D PageFlip for PowerPoint can help you insert background music to live up your 3D page turning book.
Step1: Get preparation. Download music and run your 3D PageFlip for PowerPoint.
Step2: Search "Background Sound" option in setting panel.
Step3: Choose music from your computer by click "sound file" button. If you want to make the music loop automatically, you can select "Yes" for Loops.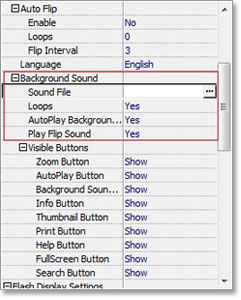 HOT TOPICS

Popular Download

You May Like