Q:How to design tool bar in 3d panoramic flipbook?
(Note before FAQ: Due to our efforts, 3DPageFlip software are updating. New functions are adding and bugs are fixing. When you are trying to use FAQ to help your 3D eBook designing, make sure you have installed the newest version to get the new function in the software. 3D PageFlip Standard Support Version 2.5.2+, 3D PageFlip Professional Support Version 1.5.2+)
When you enter 3D page flip software, you will see a series of buttons in the tool bar. However, not all the functions in the tool bar are the one you want. In this case, you can hide the buttons while you are designing. This is supported in 3D PageFlip Standard. It would help you simply your page flip book as well as beautify it!
Step1: Run 3D PageFlip Standard.
Step2: Move to "Visible Buttons" in design setting panel. There will be a list of buttons. You can choose "Show" to "Hide" in the related option to show or hide the button in the page turning book tool bar.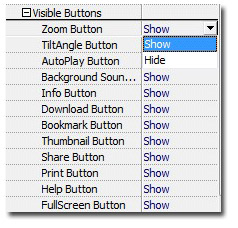 HOT TOPICS

Popular Download

You May Like