Q:How to contact us once you run 3D PageFlip Professional?
(Note before FAQ: Due to our efforts, 3DPageFlip software are updating. New functions are adding and bugs are fixing. When you are trying to use FAQ to help your 3D eBook designing, make sure you have installed the newest version to get the new function in the software. 3D PageFlip Standard Support Version 2.5.2+, 3D PageFlip Professional Support Version 1.5.2+)
If you have questions or suggestions about 3D page flip book creator to tell us, the first thing you may do is to log in our website and find out our contact center. But here I will introduce you that there is a more quick and easy way to help you contact us instead of such complex ways. You can get to us directly by the 3D PageFlip software. Just need to run 3D PageFlip Professional or 3D PageFlip Standard at the beginning.
Step1: Run 3D PageFlip Professional.
Step2: A dialog box will occur with a series of options for you to choose. Select "Contact us" in the Support column. Then you will flip to our support center directly.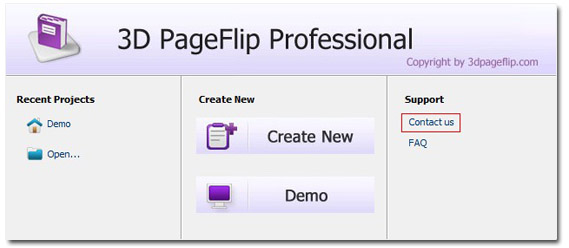 HOT TOPICS

Popular Download

You May Like