Q:How to apply Google Analytics in PPT to page flip book?
Publishing PowerPoint to 3D page flip book online means sharing our eBook information online. In this occasion we require to know how many people visit our page flip book every day or in a fixed time. Here I would introduce to add your flipbook in Google Analytics account. Then you can analytic your 3D page flip book traffic from your Google account. This will be significant for your data statistics. It will bring convenience to your everyday work.
Step1: Start up 3D PageFlip for PowerPoint. Get to "Settings" panel on the left.
Step2: input your Google ID in the corresponding option item in "Google ID" in Analytics column. You can view your Google ID in your website page resource.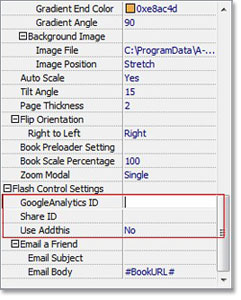 HOT TOPICS

Popular Download

You May Like