Q:How to add bitmap button in 3D page flip book?
(Note before FAQ: Due to our efforts, 3DPageFlip software are updating. New functions are adding and bugs are fixing. When you are trying to use FAQ to help your 3D eBook designing, make sure you have installed the newest version to get the new function in the software. 3D PageFlip Standard Support Version 2.5.2+, 3D PageFlip Professional Support Version 1.5.2+)
There is a new function in new version of 3D page turning book creator. It's bitmap button. This button is different from the traditional one, because you can design the button layout with different vision for normal vision, mouse over image and mouse down image. This is settings options to make button effective and dynamic for each readers of 3D page flip book.
Step1: Prepare two images with PNG format for the button. One is for normal vision and mouse down vision, another is for mouse over vision.


Step2: Enter "Page Editor" in 3D Page Flip Professional. Click "Add bitmap button" in the floating bar and draw a button in the 3D flip page.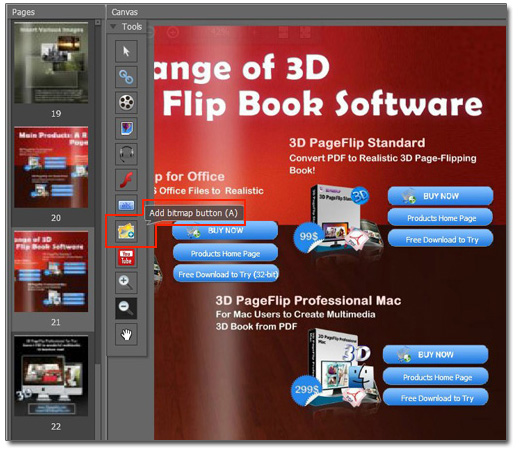 Step3: Choose the first image you have prepared through "Normal image" and "Mouse down image" in "Properties BitButton". Choose another from "Mouse over image". After that, the button will display in front of the page with the normal image. When someone moves his mouse on it, the image will turn to the mouse over one. And it will turn back to the normal one at the moment he click the button.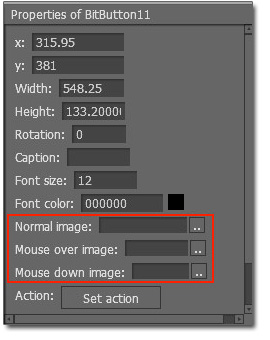 HOT TOPICS

Popular Download

You May Like