Q:How can I add a table of content for my 3D page flip book?
(Note before FAQ: Due to our efforts, 3DPageFlip software are updating. New functions are adding and bugs are fixing. When you are trying to use FAQ to help your 3D eBook designing, make sure you have installed the newest version to get the new function in the software. 3D PageFlip Standard Support Version 2.5.2+, 3D PageFlip Professional Support Version 1.5.2+)
A table of content is navigation to a book, no matter it's a real book or it's a digital flash book. It's very lucky that 3D PageFlip Standard has been improved. Table of content function as a new function will bring you more convenience because you can design the catalog by yourself. After all, you can use it to guide your book readers if your 3D page flip book is with too many flipping pages. Others can easily know what this digital book is talking about and they can choose the targeted content to read directly instead of reading from the first page to the last page.
Step1: Run 3D PageFlip Standard. Select "Table of Contents" tab from the setting panel on the left of the software.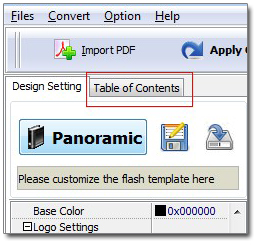 Step2: Click "Add" to add an item, click to choose the item and click "Add child" to add a child item for it. All these items need you to input its title and page in the bottom of the setting interface. After all, you can go to the targeted page of the 3D page turning book by click the item you add in the table of content.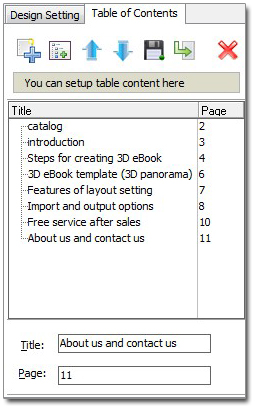 HOT TOPICS

Popular Download

You May Like