Q:Design navigation for 3D eBook content to guide reading?
(Note before FAQ: Due to our efforts, 3DPageFlip software are updating. New functions are adding and bugs are fixing. When you are trying to use FAQ to help your 3D eBook designing, make sure you have installed the newest version to get the new function in the software. 3D PageFlip Standard Support Version 2.5.2+, 3D PageFlip Professional Support Version 1.5.2+)
3D Digital book is a supporter includes much information. Navigation for 3D Digital book will be a good assistant for any eBook readers. They can find out targeted content with the useful navigation or they can easily choose the interesting page to read in the 3D page flip book. The navigation can be table of content or thumbnail. Here will introduce table of content settings for eBook navigation. In new version of 3D PageFlip Standard, the setting interface of 3D eBook has been changed. If you want to define navigation for 3D page turning eBook content, you can follow the next steps.

Step1: Run 3D PageFlip Standard and Tick Table if Content panel.
Step2: Click "Add" to add items. Click "Add Child" to add child items.
Step3: Type in your title and page number in the blank form on the bottom of the setting panel.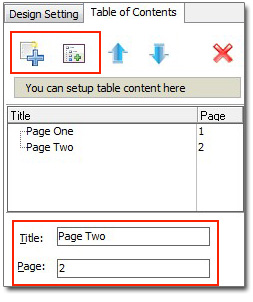 Step4: Click "Apply Change" after settings.
HOT TOPICS

Popular Download

You May Like