Q:Define pure color background for 3D page turning book?
(Note before FAQ: Due to our efforts, 3DPageFlip software are updating. New functions are adding and bugs are fixing. When you are trying to use FAQ to help your 3D eBook designing, make sure you have installed the newest version to get the new function in the software. 3D PageFlip Standard Support Version 2.5.2+, 3D PageFlip Professional Support Version 1.5.2+)
3D PageFlip Professional provides three kinds of background settings, Images, PureColor and GradientColor. Pure color is the one which is concise and simple, but can help you drive all your readers to the 3D page turning eBook content. If you select it, you should custom a single color as the background. There is a color panel enables you to custom any color from red, green and blue. Here are the detailed steps.
Step1: Launch 3D PageFlip Professional.
Step2: Move to related options "Flash Display Settings > Background Type > Background Type".
Step3: Click "PureColor" from the pulled down column.
Step4: Select a color from the next option of Pure Color for 3D page flip book background.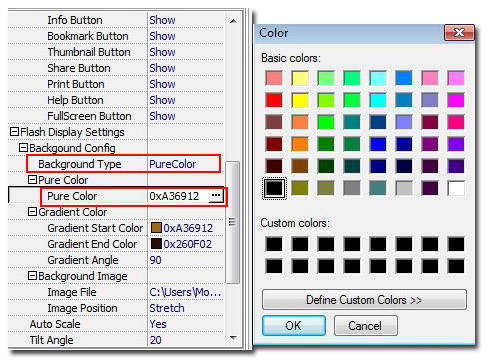 HOT TOPICS

Popular Download

You May Like