Q:Change flip orientation in 3D page flip handy template?
(Note before FAQ: Due to our efforts, 3DPageFlip software are updating. New functions are adding and bugs are fixing. When you are trying to use FAQ to help your 3D eBook designing, make sure you have installed the newest version to get the new function in the software. 3D PageFlip Standard Support Version 2.5.2+, 3D PageFlip Professional Support Version 1.5.2+)
More kinds of flip effect will bring more kinds of visions for 3d page flip book reading. In order to cater to more people's need, 3D PageFlip software offers users two kinds of flipping effect. One is to flip pages from right to left and another is flip from left to right. When you are converting PDF to 3D page turning book, you can choose the one you want.
Step1: Launch 3D PageFlip Professional and choose Handy Template.
Step2: Find out the setting option in design setting panel: Flash Display Settings > Flip Orientation > Right to Left. Choose "Right" to flip from right to left and choose "left" to flip from left to right.
Step3: Apply change to view the effect.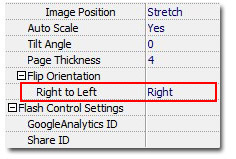 HOT TOPICS

Popular Download

You May Like