Q:Can I set pure background for my 3D book?
When I convert PowerPoint to 3D page flip book, I find it confused to set background for it. Every time I need to take times to find out some beautiful pictures which is so boring that I want to simplify it! But how can I do?
It's very easy to solve this problem because you just need to make some change of the settings. Although a pure color background is simple. However, it brings concise feeling to page flip book readers. You can design your 3D book with a simple background which has the suitable color instead of complex graphic.
In the layout design panel of program, select "Pure Color" from "Background Type" and choose one color from the color library. After finishing setting, apply change to make it available!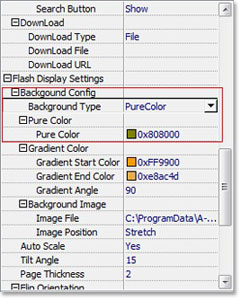 HOT TOPICS

Popular Download

You May Like