Q: Change color of link object drawn in the flip book?
Everything can be designed by us, including the details of our flip book. Even more, when you draw a link in the flash book page, you can change its color of every control steps. For example, its normal layout color when there is no action on it, mouse over color and transparency of the color. In this case, you can set it more suitable and keep vision comfortable for the page flip book.
Step1: Run 3D PageFlip Professional and import PDF, click "Page Editor"' to enter page editing interface.
Step2: Click "Add Link" in the floating tool bar and draw a link object.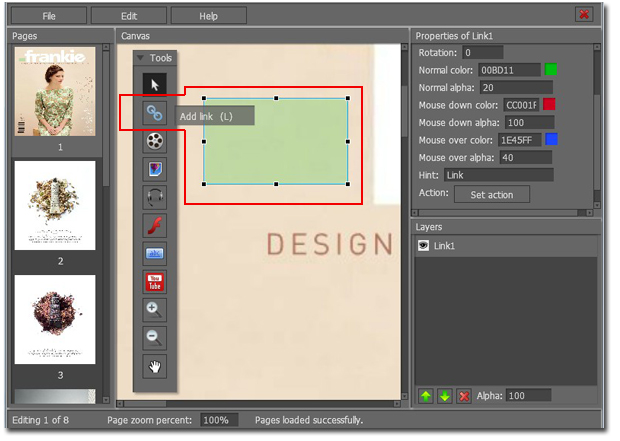 Step3: Turn to "Properties of Link" menu and you can have further design.
Normal color: Link layout color when you do nothing with the link.
Normal alpha: Transparency of the normal color. 0 mean no color, 100 means non-transparency

Mouse down color: when you press mouse, the color will turn to this color from its normal color. If you don't let go, the color will keep in mouse down color.
Mouse down alpha: Transparency of Mouse down color.

Mouse over color: When your mouse move over the link object of the page turning book, the color will change from normal color to this color.
Mouse over alpha: Transparency of Mouse over color.

HOT TOPICS

Popular Download

You May Like