Q:Can I zoom in or out in the image in the 3DPageFlip Image?
When I am editing images in the 3D PageFlip for image, I find that I need to zoom in the pictures in this page turn book software. In this case I can see more clearly and it would help me edit the image page to make it more perfect in my designed 3D page flip book.
I would tell you here that this is not complex in the software. What you need to do is finding out the zoom in and out button and click. Can you see the tool bar on the top of the interface? You can choose Image and a pulled down menu is occurred and you can choose zoom in the menu to have a good look of the pictures.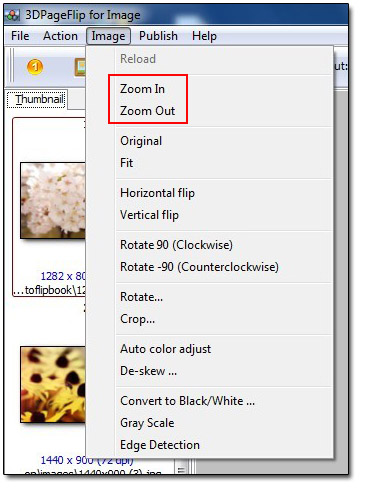 There is another way which is easier for you. You can find a tool bar occur in the corner of the images when you move your mouse to the images. What's more, there is magnification factor for you to set and you can zoom in by heart.

HOT TOPICS

Popular Download

You May Like