Q: Can I set the position for the background picture in the 3D PageFlip software?
When you want to import a picture and set it as background for the 3D page flip book, you may get original pictures from the internet or other place. However, not all size of the pictures you found fits flip book background. Absolutely it's OK to solve this problem. You can set the pictures position to make it suitable for the screen of the page turning book. Let's follow the steps below:

Step1: Launch 3D PageFlip Standard. Find out "Image Position" after you import an image for background from the outside.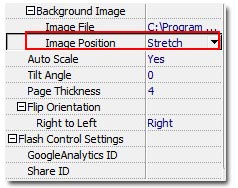 Step2: Click "Image Posistion" and select one option from the pulled-down menu. There are five choices for image position. They are Fill, Fit, Stretch, Tile, and Center. Each one will give you unique style of image background.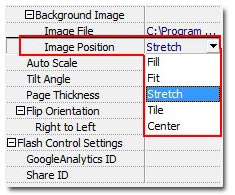 HOT TOPICS

Popular Download

You May Like