Q: How to free share your photos with a totally different gallery look?
A: If you are thinking of a new way to show photos with deeply impressing your friends or website visitors, 3D PageFlip provides you the free but unique software: 3D PageFlip for Photo.
3D PageFlip software helps you to build realistic page-flipping Ebooks with unique 3D Flash effect, you can view Ebooks from any angle. 3D PageFlip for Photo is one of the free programs especially for photographers or gallery publishers.
With using this powerful software, you can combine your digital photos into a stunning 3D digital album or magazine, and then you can output to different formats: HTML, ZIP, EXE or Burn to CD, all without paying any royalty.
Besides, the creation of 3D animated album is very easy for all level of users:
1. Import Photos together or import a folder of images directly;
2. Do settings and define layout for your digital album, such as Book Info, Flash Language, Book Background Image and so on;
3. Click "Publish" to choose output type from HTML, ZIP and EXE. Then you can view your created 3D photo gallery locally or publish online directly.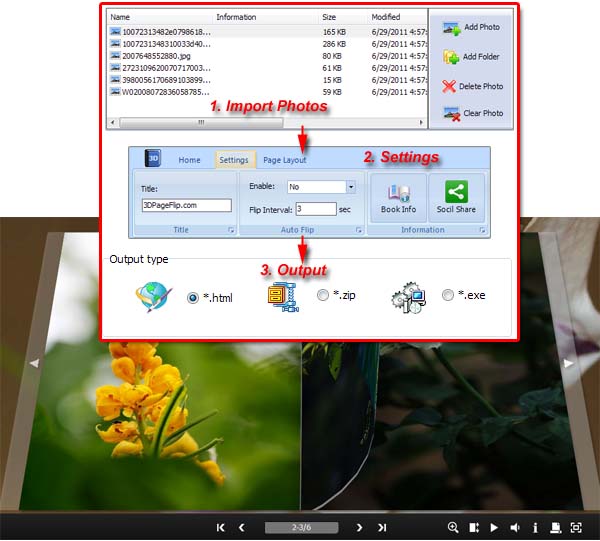 You can click page frame bar to turn pages or just click the buttons in the Page Navigation Bar directly. The bottom-right corner of the eBook are the buttons to control the performance and features of the eBook, such as Zoom in, Auto Play, About Info, Print and Full Screen.
Download 3DPageFlip software to have a try:
HOT TOPICS

Popular Download

You May Like