Q:How can I print the page I want in my 3D page flipping books when I finish converting?
(Note before FAQ: Due to our efforts, 3DPageFlip software are updating. New functions are adding and bugs are fixing. When you are trying to use FAQ to help your 3D eBook designing, make sure you have installed the newest version to get the new function in the software. 3D PageFlip Standard Support Version 2.5.2+, 3D PageFlip Professional Support Version 1.5.2+)
You must be interested in whether the flipping book can be printed or not after conversion. The answer is certainly Yes because you can use the function of print in the 3D page flip book software. No matter you made a digital product brochure, a picture album online or a wonderful magazine with page turning effect, you can print the pages you want whenever you like.
Now you can follow the steps here and print targeted page by yourself.
Step1: Start up the 3D PageFlip Standard, turn to the tool bar on the right corner of the interface. Find out the print button and click.

Step2: You can tick "Print all page" if you want to print all pages of the 3D flipping book. Or you can define specific page to print in the "input range". Click Print after setting.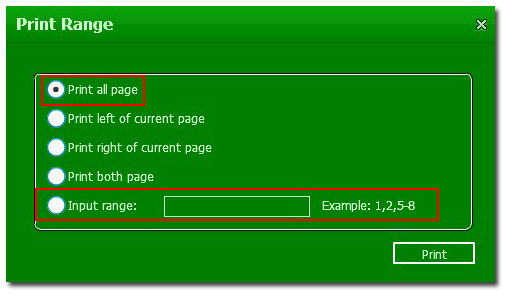 HOT TOPICS

Popular Download

You May Like