Q: Can I contact you when I have some problems and suggestions to the 3D flipping book?
It's usually to meet problems when you use a kind of product, so is the 3D page flip book. Even more, you may have some suggestions when you discover the disadvantage of the flipping book software. Welcome to tell us all about this and we will take your suggestions seriously because your suggestions are full of value to us. It's convenient for you to contact us though the 3D page flip software. You can do as the following steps show you.

Step1: Launch 3D PageFlip Standard. Click "File > Contact Us" to get help.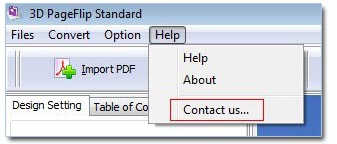 Step2: You can find the answer in the page and if you still have questions you can send E-mail to us. The E-mail address can be found in that page as well.

HOT TOPICS

Popular Download

You May Like