Q: How to search the key words in the 3D page flip book?
As we all know, sometimes PDF file includes a large quantity of pages. When it is converted into a 3D page flip book, the pages will never be reduced. If we want to find a sentence in the eBook, it will be a huge work to start from the first page to the last page. However, 3D PageFlip Standard can help you to solve the problem and improve your work efficiency.

This is the search engineer in the software. When you use the function, you can search any other words as you like. In this case time is saved and trouble is reduced.
Now follow the steps below and find out how the search engineer in the software works.

Step1: Check "Import PDF" when you want to convert the PDF file to the 3D flipping book.


Step2: You will find the interface as below. Move your mouse to the end and tick the option "Import search".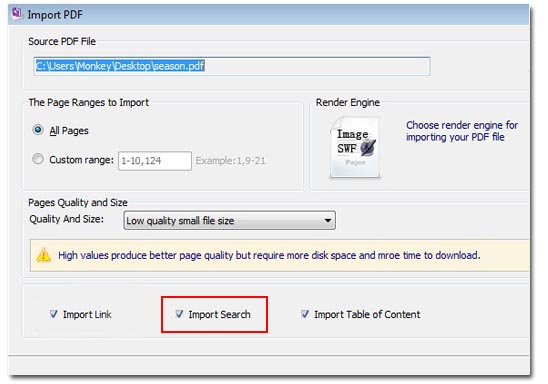 Step3: You can find the button "Search" in the menu bar after conversion. Click it and you can type key words you want in the blank to search. Then a list of items will occur below the blank, just click the right item and the flipping book will turn to the related page.
Download 3DPageFlip software to have a try:
3D PageFlip Professional Mac >>
HOT TOPICS

Popular Download

You May Like