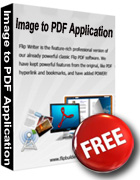 Freeware

Free

Image to PDF Application
Free eBook Conversion tools to Convert Image to PDF.
Preserve imagesto PDF documents quickly and easily;

Fast and compact software, Never feature-rich, just single conversion function, Small size to download;
Support JPG, PNG, BMP, TIFF and GIF;

Download
PDF to Flash
This is another kind of free PDF tool found from outside and I want to share it to you here because its good use and its kind interface. The function is to change your images to PDF file in a short time and it is suitable for the people who just want a simple and easy use!
Some following situation may need this kind of software. If you are businessman, you can apply it to easy commercial use. You can convert your product images to PDF file in order to get your images protected and easily to print. Or if you are a teacher or a student who want to deal with some images, you can choose this software as your preference. If you are a photographer, you can use this free Image to PDF Application to assistant you arrange the work. Even if you want to make page flip book with images, it can help you get ready for making the page flip book.
It is really a kind of practical PDF tool to help you create Adobe PDF documents from a collection of images, typically scanned from a paper source or in form of digital photographs. The biggest feathers of Image to PDF Application are listed below: Fast and compact software, Never feature-rich, just single conversion function, Small size to download and no need to store with a huge space, Easily control for the final quality and size of the images, Ready to run and can be used as a portable application.
Pay attention: The suitable file types are JPG, PNG, BMP, TIFF and GIF. No transparency data is preserved even if the image format supports it (PNG). Multi page / multi frame formats are not supported (for example some TIFFs generated by fax programs, or animated GIFs). The number of images that can be processed is limited by the available memory / addressable space. It is available on 32 bit system.
I wish you have a great use with this Free Image to PDF Application. 3D PageFlip software also has the same kind of software to convert images to PDF file,even to flash flipping book. If you want to obtain the detailed information, you can click 3D PageFlip for Image.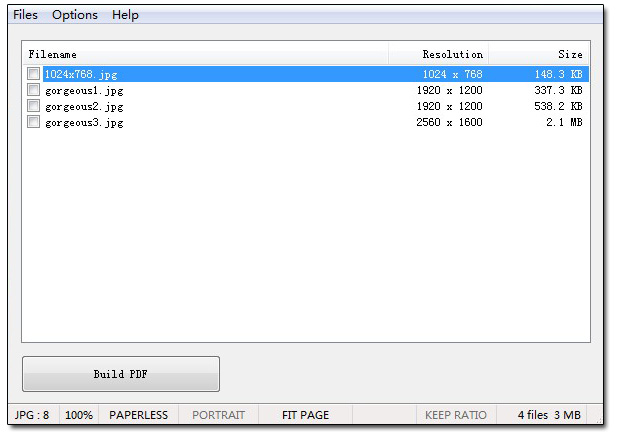 If you need convert PDF to 3D flash Flipping Book, please see : 3DPageFlip Standard
Introduction to 3DPageFlip Standard:
--------------------------------------------------------------------------------------------------------------------------------------------------------------------
3DPageFlip Standard is a perfect tool to transform your PDF files format into realistic 3D page flip magazines. With 3DPageFlip Standard, You can create amazingly realistic 3D interactive magazines, catalogs, brochures, books or newspapers in minutes without any Flash/HTML or programming skills. And you can use your 3D Digital Brochure edition online, offline (on your PC, IPad etc), burn it to a CD/DVD or use it with an usb storage device.
The pages turn with the option of rolling the entire book in three dimensions, and this induces a feeling in users as if they are holding an actual book in their hands.
Use realistic 3D page flip magazines effect to promote your book, boost your book's sales or to demonstrate your book in realistic, visual 3D animation!