Using 3D Page Flip Ebook Tool to Improve Customer Loyalty
Posted on October 15, 2012
In fierce marketing competition, how to keep your customers become more and more important. The points are not only including best products for customers, but also great after sales service for the purchasers. Of course, many new methods are pushed out for companies, like 3D page flip eBook tool, which can create rich vivid information in a digital eBook with 3d page turning effect for offline use and online use.
Unlike the traditional way to deliver information for customers, the application offers a multimedia way instead of dull text. Its attractive layout, multimedia content and interactive reading experience will bring interest to customers and show your respect and appreciation to your customers. The application enables readers to flip pages in 3D panorama instead of scrolling them. They're easy to incorporate as well. In order to view page flips you should install Flash Player. Once you get prepare for the work, you can create your information in a PDF file and use this kind of application to convert it into 3D page flip eBook. What's more, if you are not satisfied with the current 3D flipbook, you can use page editor which is included in the software to create multimedia content like inserting flash, video, image slideshow to pages. Many ways to use this tool to improve customer loyalty are listed as below:
Use this application to create e-brochure, e-magazines in order to publish company news, new products information, and promotion information for your customers. The eBook can be converted as EXE or HTML format to help you send it to targeted readers via email or publish on your website. The 3D effect and page turning experience will attract customers and you can provide them the most important information at the first time.
Customize a 3D page flip book to cater your website and products. You can use the tool the burn the digital book to CD directly and make it a products gift. In this case, you can promote your launching products and attract them for future purchasing.
Of course, you can even lock targeted page on the flip book to offer viewing privilege for your returned customer. You can put Promotional Information in the locked pages and show how good you take care of your customers.
The interesting eBook makes digital publication more lively and appealing. It will never be a normal advertisement, but more than advertisement. Know more about 3D eBook: http://www.3dpageflip.com/.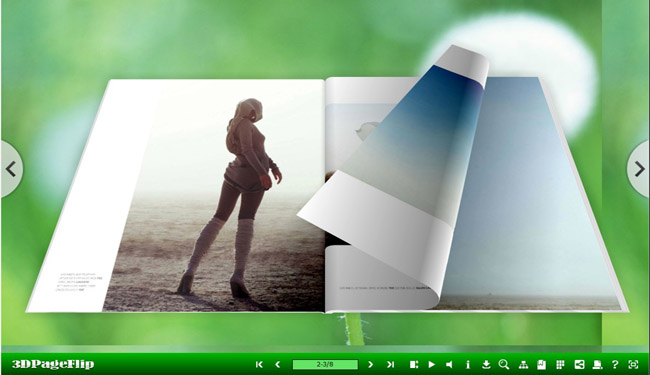 Download 3DPageFlip software to have a try:
3D PageFlip Professional Mac >>