Use 3D Flipbook Software to Create All Kind of Digital Book
- Digital Shopping Catalog, 3D Personal Album, Company Online Manual
Posted on August 27, 2012
3D page flip book creator is something useful in our life, especially in today's digital age. Internet spreads all over the word and no matter study, entertainment or work, it will never leave internet. Digital products become popular. And digital books with multimedia applications are one kind of digital popular things. What can it do? Here I will introduce three applications about 3d digital flipbooks. I hope it will bring you some inspirations for your own use.
Digital Shopping Catalog
Since online shopping becomes main trend in our business life, digital leaflets and brochures are needed. 3D page flip book can be used here. Its advantage is its real-book like layout with page turning effects and 3d effects which make it more eye-catching and user friendly. What' more, it allows spread and you can add many elements in it, such as flash, video, links, button and more which brings more conveniences for your business than just a single page.
3D Personal Album
Great things are happening around us all the time. We would like to write down the things which are full of memorials. And 3D page flip book will be a good choice. You can compose your story in a PDF file with pictures, words and other elements. Then convert it in to a 3D page flip book and make it a wonderful album.
Company Online Manual
Every company can make a 3d manual through 3D page flip book software which represents itself. What can this manual do? Publish online to help others learn about your company. Send it to your customers and give them a special impression about your company. Make inner manual to boost staff material and light up company culture.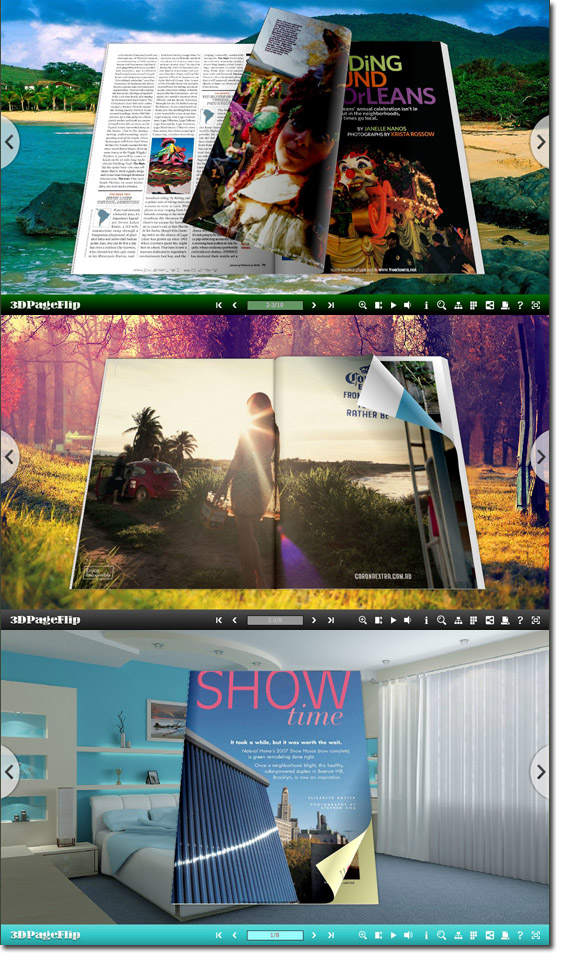 Download 3DPageFlip software to have a try:
3D PageFlip Professional Mac >>