Three Output Options When Publishing 3D Page Flip Book
Posted on June 24, 2012
As we open the 3Dpageflip software to convert a PDF document to a flip book with flipping pages, we set designing, change templates, design tool bar distribution. We prepare a lot to make the page flip book beautiful and perfect. Now we want to publish it out. No one wants to hide such beautiful thing to enjoy by himself.

At this moment, three options have been provided in the flip book software for you to choose.
They are HTML, ZIP, and EXE format. I will give a detailed introduction in the following passage.
HTML:  This option will help you publish your flash book online ad a webpage.
What you can do?
1. Set output folder and file name, set HTML title. What is HTML title? It's an explanation of the title tag used in HTML pages. Views can see it in the top of a webpage.
2. Also make Mobile Make:  when you choose this option, some related file will be built under your output folder. You need to upload this file to your website. When you surf the internet by your mobile phone, we can view the 3D flash flip book as well.
3. Make Epub: This will allow reading the digital page turning book with Epub. It's kindly for you to set title, author, publisher, and comment for Epub.
Burn to CD: convenient to bring.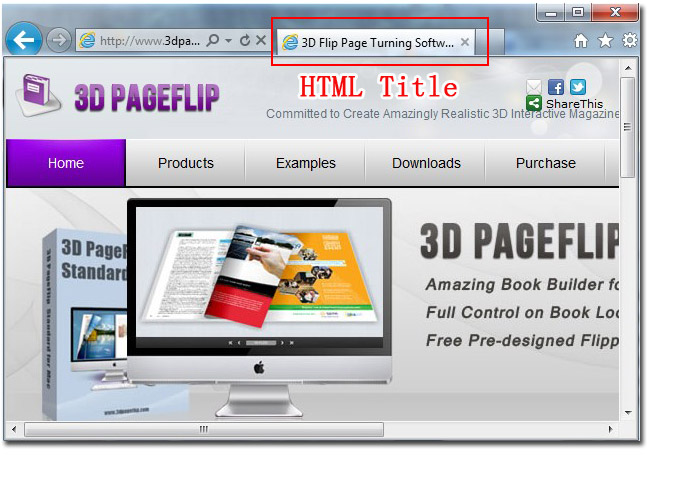 ZIP:  All setting feature are the same as HTML. It zips the HTML file into a package.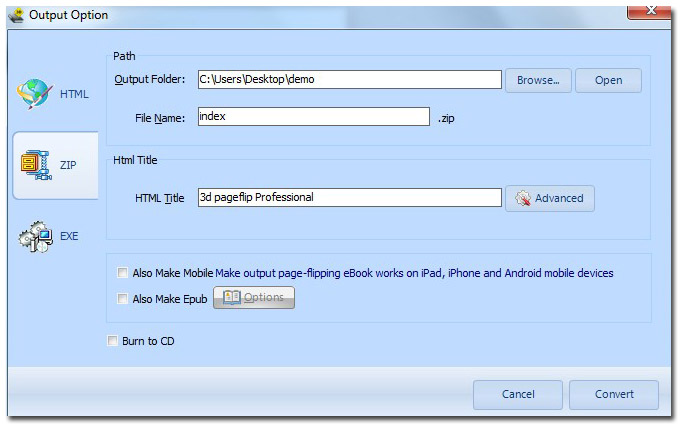 EXE:  this is published as an executable program. You can run it in Microsoft Windows, Symbian, and OS/2 operating systems to view your page flip book directly.
What you can do?
1. Set output folder and file name, set HTML title.
2. Take an advanced setting for the exe format: caption in EXE window, icon for exe file, even window size option is available.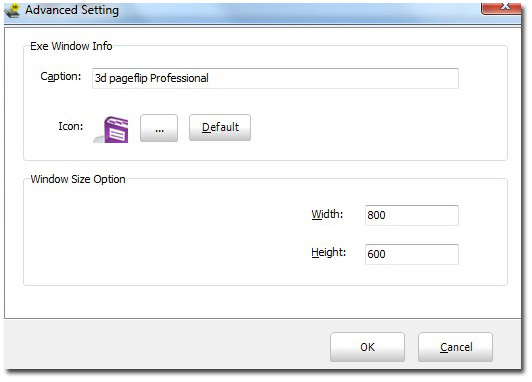 Download 3DPageFlip software to have a try:
3D PageFlip Professional Mac >>