Main Page Editing Function in The 3D Pageflip Professional
– add link, image, Youtube, Icon, sound, movie to the flipping page
Posted on June 21, 2012
As flipping book popular today, more and more requirements from page flip book users have arisen. 3D Pageflip Professional is the one which is more advanced than other 3D Pageflip products. Its flipping page editing function allows everyone to enrich their digital 3D book content. It's not only beautifying functions for flipping book layout, but also interactive and practical function for flipbook users.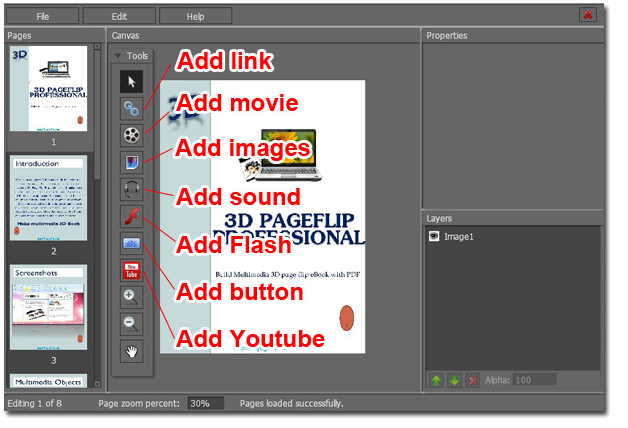 Add link to flipping book:
This is a convenient entry from your flip lash book to your home page or other website. It's the bridge to connect the relative information.
Insert a movie to the flash flip book from your computer:
Here allow you to pick up your movie when you convert PDF to your 3D page flip book. In this case, an interactive the reading place will be created for your flip book readers.

Set photos to the page turning book pages:
With 'Add Image' button, you can build more images in the eBook page. Even more, some actions are for you to choose. They would help you improve flipping book usability. For example, choose 'Go to page' action you can move the another page when you click the inserted image. Choose 'Photo slideshow' you can gain a different photo showing way in the eBook.

Add sound through drawing a music player:
This is a little like PowerPoint, you can add sound and control it to play with some pre-setted actions.

Import a flash like floating petals around the eBook page:
Not only floating petals effect can be creates, but also a shining banner can be inserted in the eye-catching area of the eBook.

Add button to the flip pages of eBook:
This can be the similar application as the images. But it's a button, not an image. You can download some icon online (SWF fornat) to help you embed a button in the page flip book.

Create Youtube window to see video:
With this function, you just need to copy down the Youtube ID and paste it in the relevant place of the flip book software. Easy and convenient operation!
Download 3DPageFlip software to have a try:
3D PageFlip Professional Mac >>