How to make a table of content for my 3D page flip book?
Posted on July 17, 2012
New function in the newest version (2.0.12) of 3D PageFlip Professional to help you create flash book table of content.
In many kinds of office software, we can make a catalog for documents, such as generating a table of contents for word documents, using PDF catalog to find targeted content. Maybe some doubts will occur when you convert PDF to a flash flipping book. You may find that you lose direction when you are reading the 3d page turning book, because with the thumbnail (no word guidance but a thumbnail) you still don't know the chapters and sections or even what the flip book frame is like. So you maybe feel a little confused to learn the book frame by turning pages from first to last.
However, there is a good new to show you here. The newest version (2.0.12) of 3D PageFlip Professional has been published and it adds table of content function to 3D page turning book. In this case, you can design a table of content for you 3d flip book as guidance for your book readers. It will support you list down your main content of each flip page. Even more, you can add child title for every item. When others read this table of contents, they can go to the related flip page quickly and directly by clicking the item.
A serious of detailed steps are displayed below to teach you add table of content to your 3D page flip book.
Step1: Launch 3D PageFlip Professional. Import PDF file. Choose "Flash Control Settings" in the navigation bar. Then click "Table of Content". The setting interface is on the left side of the software.

Step2: Click the first button to add an item. Then fill in its title and page number in the related blank form below. Press Enter. Then you have finished adding an item. Move on to create the second one with the same steps.
Step3: Add a child item. Select the item which you want to add child item and click the second button "Add Child" to create a child item. Then fill in the child item title and page number in the related blank form below.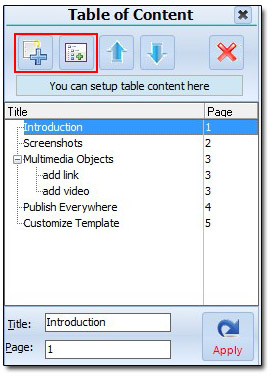 Step4: after finishing creating a table of content, click "Apply". Then a button for catalog will be generated in the 3D page flip book tool bar. Then you can use it to read your 3D flip pages more conveniently.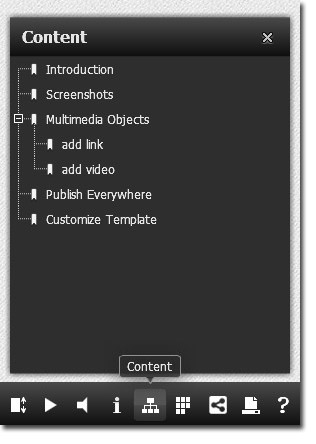 Download 3DPageFlip software to have a try:
3D PageFlip Professional Mac >>