How to embed your 3D eBook in your web page?
Posted on August 02, 2012
3D page flip book is the kind of digital book with special characteristic. You will rotate the book with 3D effects. You can get real-book like experience with page turning effects. Using 3D PageFlip software can help you publish your eBook online or just an EXE file to share via email. What's more, to fit more people's needs, you can embed the 3D flipbook in your website for more use. It will be more directly to show your eBook content to your readers. You can add words to describe your 3D page flip book in your web page with the embedded eBook. Since 3D book can add video, flash, slide show, link and more applications in its flip pages, it will be a more vivid way to show whatever you want to show instead of picture or video only.

Here will introduce you how to embed your 3D eBook in your web page. However, if you still know little about 3D page flip book, you can visit our Home Page and have a free try to create 3D eBook with 3D PageFlip Standard or 3D PageFlip Professional.

Embed your 3D eBook in your web page:
Step1: After publishing your 3D page flip book, click "share" button in the tool bar of 3D eBook. Click "copy HTML cold".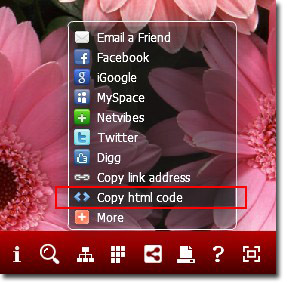 Step2: enter your HTML editing interface, and paste this copied code to the position you want to display your flipbook in the web page. like this:

Step3: This is the example of an embedded 3D page flip book!
Download 3DPageFlip software to have a try:
3D PageFlip Professional Mac >>