Flash Problems Occured in 3D Pageflip Pro - About Adding Flash to Flip Book Pages
Posted on June 16, 2012
Today here I would like to talk about the flash adding function in 3D Pageflip Professional. What's the problem?
Have you ever found that the flash you added in the pages were not same with the effect you saw at the moment you downloaded? One time, you opened the page editor in the 3D Pageflip Professional and started to insert a SWF file to the flip page. You pulled out a square frame and input a flash. Then you found that it was with the wrong size. Maybe it was too smaller than that you have imagining. Even more, sometimes it was floating outside the square frame. And you had no idea to solve the problems. At that time you may think, oh, what had happened to my software? Does anything wrong with my 3D Pageflip Professional?
Problem 1: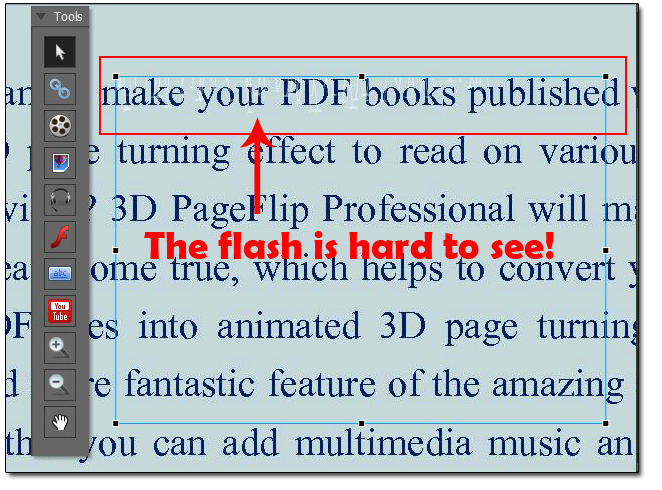 Problem 2: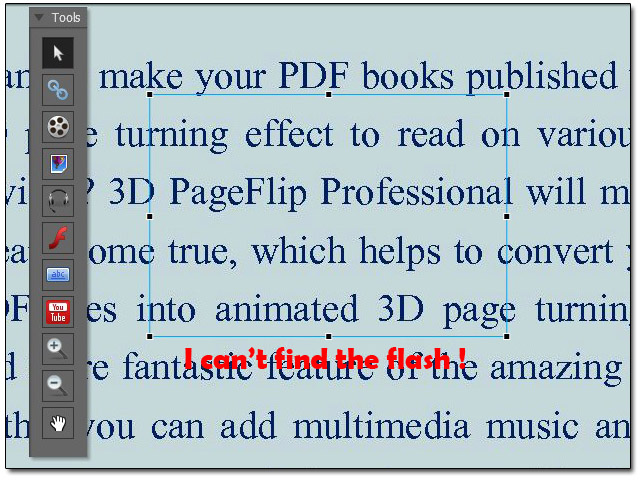 Problem 3: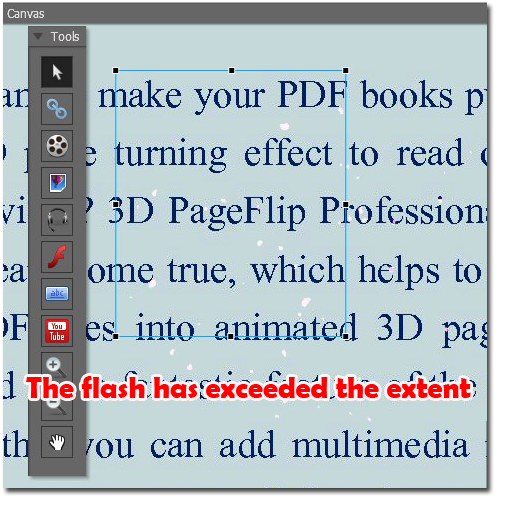 OK, just calm down. Nothing is wrong with your software or flipping page editor.

Firstly, because of the Flash version and code writing, some error will come out when you are adding flash to page flip book. This will cause the problems such as showing in wrong extent, becoming transparent or black. Flash is written in a special way and when loading flash, these problem occurred. And the root method to solve the problem is to rewrite flash with the newest flash editor, such as Adobe Flash cs5.
Of course, rewrite flash is difficult for us. We simplify it by saying this: download the latest flash version which is written by the newest flash editor, then import to the page editor. Even more, you can adjust the flash size through adjusting the size of square frame you have drawn.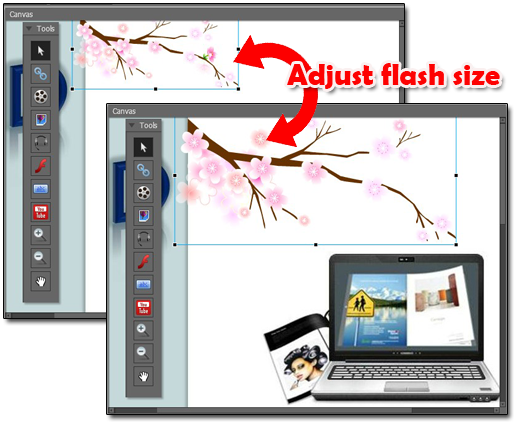 Warn tip here:
Please save your work content before you add flash to your page turning book pages, in order to prevent the program crashing when you are add flash that still exit problems and affect the program.
Download 3DPageFlip software to have a try:
3D PageFlip Professional Mac >>