Comparison Between 3D Page Flip Pro And 3D Page Flip Standard
Posted on June 11, 2012>
3D PageFlip series includes several kinds of products. 3D PageFlip Standard is the main software and 3D PageFlip Pro is the newest product which will become competitive as 3D PageFlip Standard. What the same and different feature between them? What is the selection standard for you? Read the following text to gain more. What the page flip book you are going to get all depend on your pdf to flip software.

The same feature:
They are all helpful page turning book conversion to convert PDF to page turning book.
They can publish with HTML, ZIP, EXE format and even convert to Mobile Version or burn to CD.
They can create wonderful flash flip book with page turning effect and customize many details for the eBook layout. Such as templates, book title, book information, tool bar color, flash buttons language, flip speed, background music or flip sound, page thickness, book auto scale, tilt angle, eBook logo and so on.
They all can use in SEO work and get Google Analytics. What's more, share with others and account record in sharing Analytics.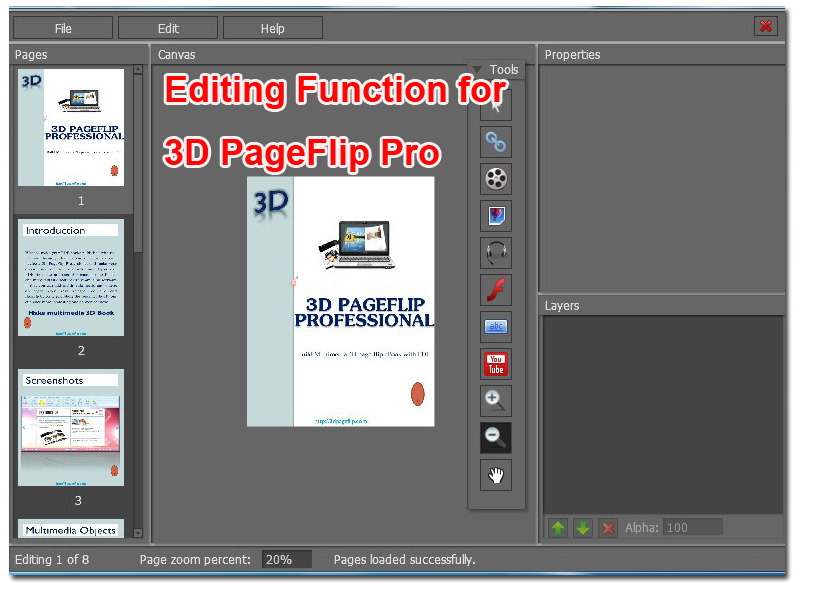 The different feature:
It is exactly to say that 3D Page Flip Pro is the improved version of 3D page flip Standard. It added a great and powerful editing function to the 3D Page Flip Standard to make it a professional one. With this function, you can edit every PDF page in the flash flip book software. You can add flash (swf) to the page of the digital eBook to boost the vivid effect. You can insert related video from Youtube to impressive readers. You can even add a button to click in the pages for convience.
All in all, if you want to convert PDF to flash page flip book just for reading without any further needs, you can take 3D Page Flip Standard. Otherwise, you can take 3D Page Flip Pro to have more powerful page editing functions.
Download 3DPageFlip software to have a try:
3D PageFlip Professional Mac >>