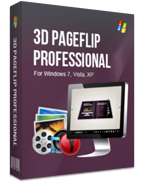 Price: $299

For Windows 7, Vista, XP
Page Editing - Add Flash, Video, Photos slideshow and more!
3D panoramic template & page turning effect
Video playing in 3D space & 360 degree products embedded
Convert PDF to realistic eBook with 3D page turning effect.
Powerful 3D page editing function (create 360 degree spinning objects; embed flash, 3D video, bitmap button, slideshow to flip book pages).
Comprehensive setting functions for designing own PDF to flip book (including tool bar, eBook information and flip effect).
Publish 3D page flip book with HTML, ZIP, EXE format, even for Epub, iPhone, iPad, and Android devices (for online and offline use).
2D and 3D templates for eBook background: Handy, Float, Fresh, Plain, Panoramic.
Free Trial
Buy Now
3D eBook with Rich Multimedia Content
3D eBook is not a normal digital eBook which is full of multimedia content and 3D effects. You can drag the book to flip in realistic 3D panoramic background, play a pop-up video in 3D space. You can show products in 360 degree vision easily and directly to others. In addition, you can view photo slideshow, listen to audio, open website, view animation in the pages as well as text. How fantastic the eBook! You will just feel like reading a real book in hand, but more than a real book. No matter you publish the page flip eBook online or offline, it will be the most eye-catching one for your audiences.