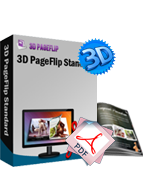 3D Free Tile Themes
Cool 3D eBook Template for Tile Style
Pre-designed 3d flippingbook templates based on Tile subject
Easy import to use in any software of 3D FlipBook creator series
Customize your own info with using the integrated themes

Download
View Demo
Pre-developed 3D PageFlip Themes for 3DPageFlip software enables you to create more affecting 3D page-flipping eBooks with shorter time.
To create a unique look while decorating your 3D eBook? If you want to use a background that had a textured feel to it, a small image, tiled, can provide that sort of optical illusion. The Tile Theme Package just designed with small and tiled background images.
The used tiled images are join together nicely and smoothly, and the designed templates can be used in many different styles of eBooks, no matter business annual report, cute cartoon story book, or even romantic love letter, the templates would meet your needs perfecttly.
Click here to know details about: How to use themes in 3D PageFlip software?
tile Themes for 3D PageFlip software Screenshots

.