Ice Style Theme for 3D Page Turning Book
Interesting 3D eBook Template for creating wonderful digital catalog!
Easy and instant using to saving time.
Spend less energy to do more.
Pre-designed background and pictures are provided for you.

Download
View Demo
After a freezing, snowy winter, you must be missing the summer sun shine deadly. Well, it is still far away from summer, spring is coming though. But today, we are not going to talk about spring or winter. We talk about ice, at the end of winter days. As a 3D flip book theme, the ice style theme could make your book pure and fresh. When being in a subzero condition, water will change into a new state----ice. It becomes crystal clear and freezing, like untouchable. And the most unique and amazing thing is, unlike the rare and expensive ore accessories like diamonds or crystal, ice can be made in anybody's refrigerator, in any shape. Yes, in any shape, this is the unique thing----it will maintain the appearance when it's still in water form. Just like time stopped.
Come get the ice style theme for your 3D page flip books to make your brochures icy and unique, or you can check out more themes on our site.
Before using these themes, make sure you have installed 3D PageFlip Standard or 3D PageFlip Professional.
This package belongs to "Panda" template in the software, please find it in the "Panda" template page after install.
Click here to know details about: How to use themes in 3D PageFlip software?
3D Page Flip Book Templates Screenshots - Ice Style Theme for 3D Page Turning Book: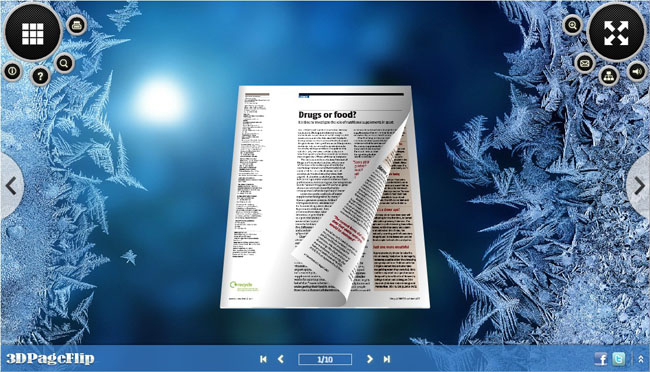 .