3D Free Summer Clothes Themes
Interesting 3D eBook Template for Summer Clothes Style
Simplicity of operation for your PDF to 3D book conversion.
Help you DIY your flipping book with less time and energy.
Pre-designed background and pictures are provided for you.

Download
View Demo
This is a group of templates of 3D page flip book. Four templates are contained and every picture can distinguish from each other. The picture shows fresh clothes under blue sky in summer. It gives all of us a happy and simple feeling. Make your 3D book flip in the blue sky as well as the clothes! Let your page of the flipping book fly with the wind! That is the choice which the package of this 3D page flip book can bring to you. Wherever we are, we love sunny days, because sunny days keep everything available. We can dress clean and dry clothes and go out for a walk. We can invite friends and go on a trip. We can get rid of bad mood and keep our mental world full of sun shine. Summer Clothes, the topic of the 3D page turning book templates, will enable you to show your optimistic to your readers. Take a consideration to download the package and have a good time to design your 3D book.
Before using these themes, make sure you have installed 3D PageFlip Standard or 3D PageFlip Professional.
This package belongs to "Fresh" template in the software, please find it in the "Fresh" template page after install.
Click here to know details about: How to use themes in 3D PageFlip software?
3D Page Flip Book Templates Screenshots - 3D Free Summer Clothes Themes: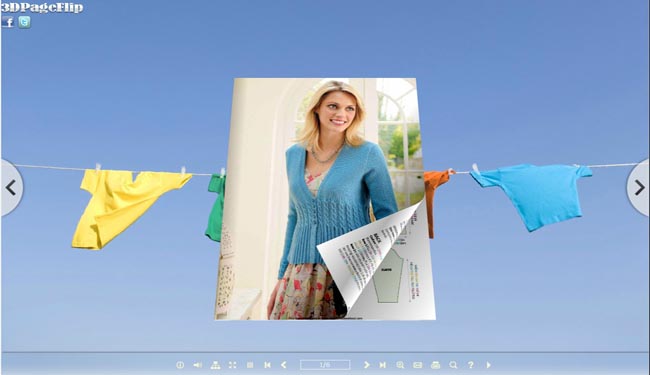 .